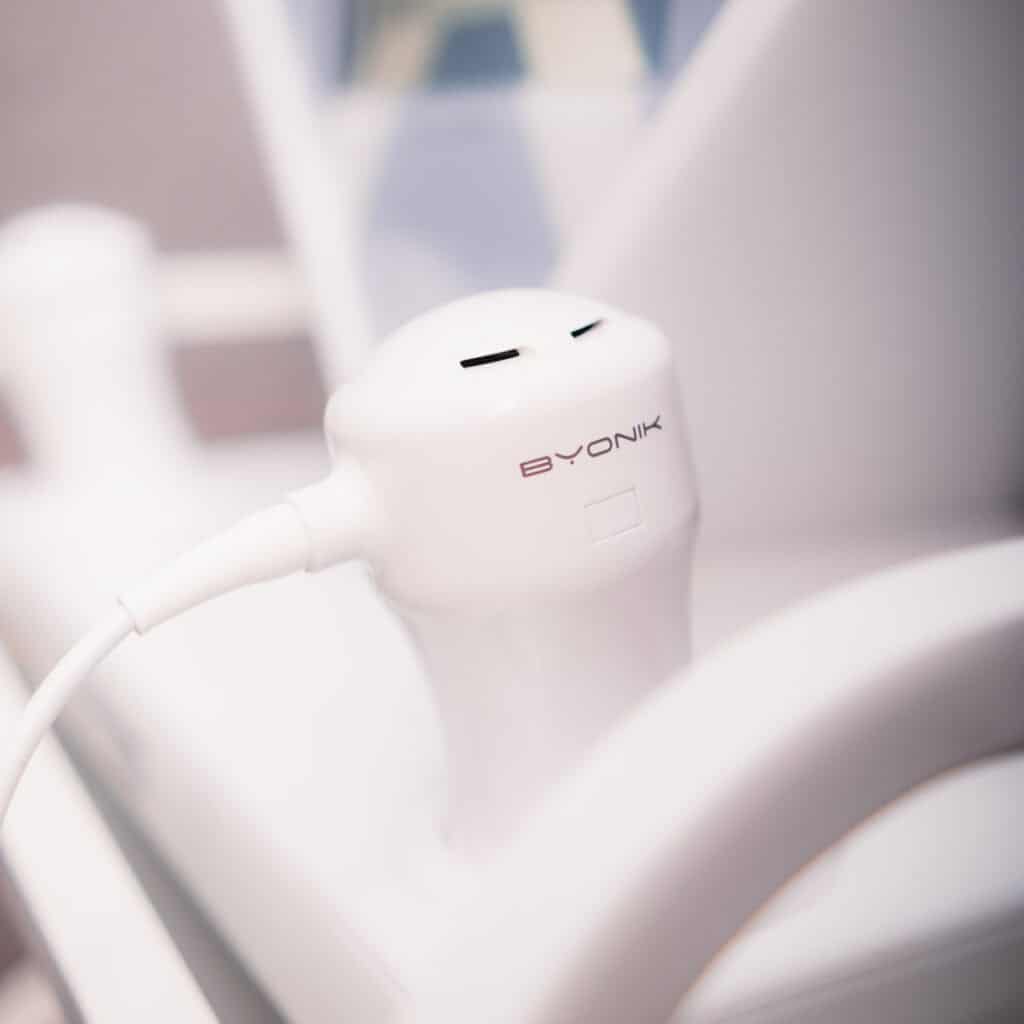 'BYONIK® is the world's first laser which rejuvenates, repairs, heals and protects your skin at all levels and directly within the skin cells.
With a trilogy approach the BYONIK®method combines a Pulsed Triggered Laser, Hyaluronic Acid embedded with antioxidants to help support and improve numerous skin concerns, symptoms and indications. Suitable for all skin types, 365 days a year.
Guided by your own pulse, this revolutionary cold laser re-energises and repairs your skin cells, restores and upregulates collagen and elastin production to preserve youthfulness; improve the volume, quality, contours and signs of ageing skin.
The method instantly reduces skin irritations, redness, promotes healing, reduces inflammation and deeply hydrates the skin from directly within the skin cells, not just around them'.
BYONIK® Is A Non-invasive Medical Aesthetic Program. The BYONIKS® unique treatment approach is a three-step trilogy which powers up every epidermal and dermal skin cell, whilst maximising the skin's regenerative and healing capacity, to give your skin stunning multi level rejuvenation effects.
Benefits to Skin
Anti-inflammatory (within all layers of the skin and within the skin cells)
Stimulates microcirculation
Promotes metabolism (toxins are flushed efficiently and effectively to alleviate breakouts)
Stimulates the structural function of the connective tissue by acting upon the fibroblasts
Regenerates and strengthens blood vessels (VGFs)
Analgesic and anti-oedematous
Reduces skin blemishes
Reduces and prevents pigmented lesions
Alleviates broken capillaries, couperose, telangiectasia
In need of a course? Book in for a consultation.
BYONIK INTENSIVE REJUVENATION (75 mins)
The Cellular Rejuvenation with a power charged extra boost. The ultimate healthy ageing treatment to visibly smooth lines and wrinkles and provide a healthy, youthful glow with instant volume and lifting. Experience the incredible High Energy Anti-Ageing complex full of peptides to revitalise, plump and regenerate the structure and health of the skin.e
BYONIK CELLULAR REJUVENATION (60 mins)
Byonik's Patented approach to healthy skin ageing. A combination treatment focused on improving the skin's critical moisture levels and strengthening the natural protective functions of the skin from environmental damage. The Cellular Rejuvenation Treatment provides deep moisturisation and volume, giving your skin a vitality and lift you will feel immediately.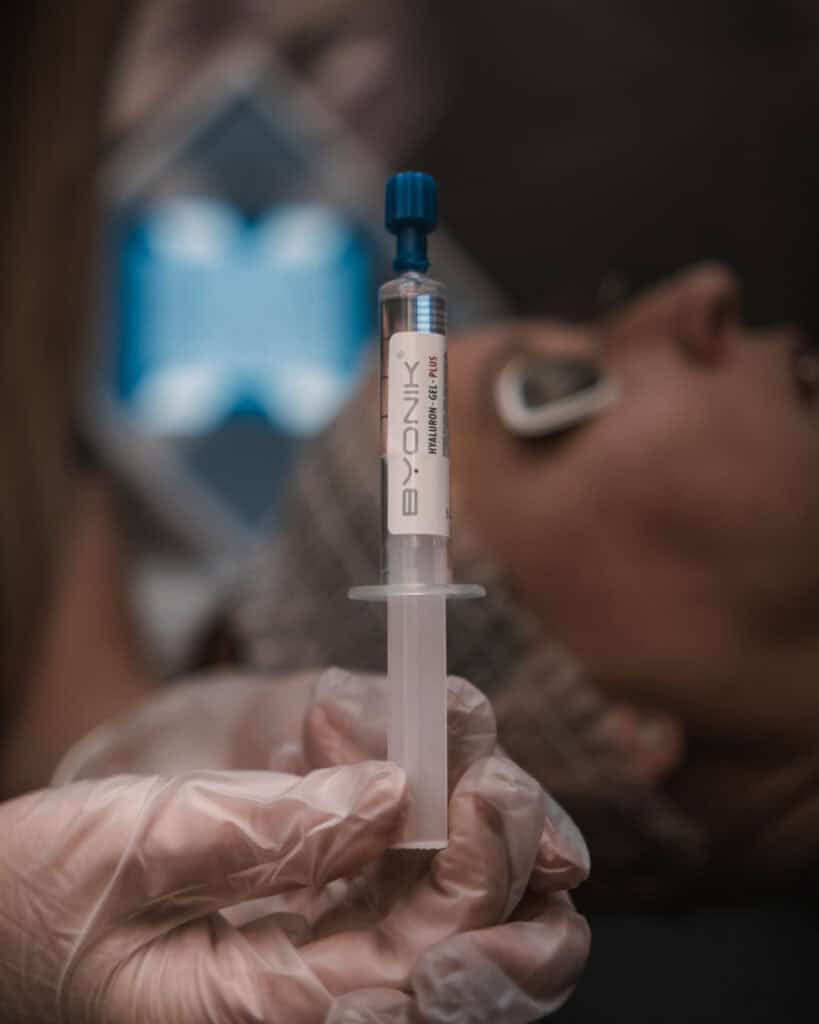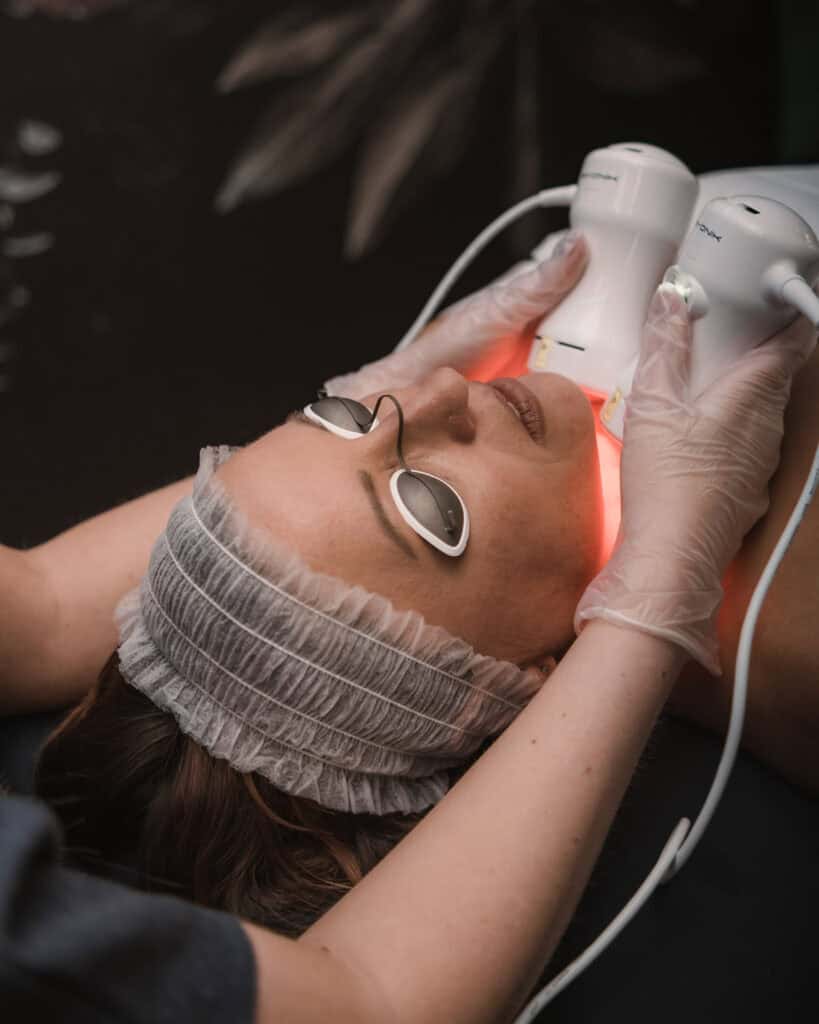 BYONIK QUICK POWER (45 mins)
A powerful detoxifying facial, giving skin an intensive brightening boost whilst providing deep cell protection, anti-inflammatory benefits, increased hydration and maximum protection against environmental pollution with stem cells.
BYONIK DRY LASER (45 mins)
The perfect solution for Acne and Rosacea prone skin. During this procedure you will experience a skin PH balancing cleanse, followed by our PTL Laser handpieces which help to heal, repair, calm, reduce soreness whilst reducing skin blemishes.
Treatments and book one that is perfect for you!