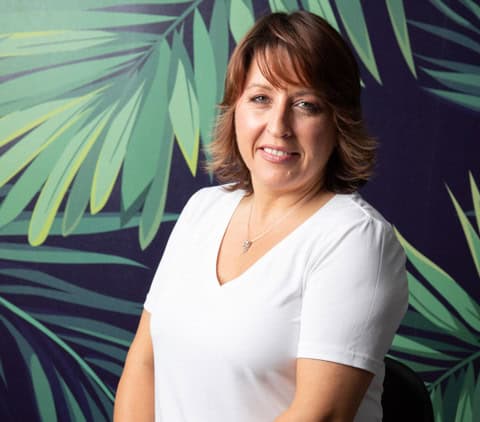 Hi I'm Julia, owner of Tonic Day Spa, which has now been established for 23 years. Wow where did that time go?
My passions is massage with a truly holistic approach making you feel amazing physically, mentally and spiritually.
At the young age of 24 I decided to start me self-employed journey, originally at The Health Café in Cannock (I wonder how many of you remember it) before moving on to Cannock Cricket and Hockey club (where I started working with Jon Edwards and he's stuck around since) and finally opening my own salon in Heath Hayes on 2000.
Before that I had had an interesting career, studying at Birmingham College, which was and still is, one of the best beauty therapy courses around, I had already decided I wanted to leave England and travel the world with my job.
My first foray into the world of beauty was working on cruise ships, at the wee age of 18 I left home to work for Steiner's in London before travelling to Florida to join my first ship. I was so lucky-the days were long, the standards high but the life was wild. By the time I was 24 I had worked on 3 ships, lived in St Marteen in the Caribbean and Kansas in America. Travelling the world and treating many celebrities and VIP's had given me a wealth of experience, which helped me land an amazing position at The Dorchester Hotel in London, where I worked on reception and only offered services to VIP's. I met and massaged many millionaires and celebrity' may favourites of which were Nelson Mandela and Bruce Willis whom I treated on numerous occasions.
The start to my career set my standards and when I returned to the Midlands I struggled with the quality of treatments and customer service on offer so decided to go it alone establishing a great reputation for quality and customer care which is still just important today.
My passion is Massage and Reiki. I am a unique therapist as I'm naturally strong and deep, so if you like a soft massage I'm not your girl… I have a large male client base, due to my deep tissue massage and experience. If you'd like to see my gentle nurturing side then book in a Reiki, Hot stone, Tranquillity or Urban Ritual Massage, however I am always in demand so early booking is essential and please note some of my treatment charges are a little more-but I'm worth it!
I hope you enjoy all your treatments at Tonic Day Spa,  Massage Hub, Skin Hub and Beauty Hub and look forward to seeing you all soon.
Treatments and book one that is perfect for you!